PRINCETON, N.J. — Certara, Inc., a global leader in biosimulation, and Chemaxon, a leading chemical and biological software development company, today announced a strategic partnership to accelerate drug discovery research through integrated scientific informatic workflows to modernize pharmaceutical research.
This partnership provides interconnectivity between Certara's D360 Scientific Informatics software and Chemaxon's Design Hub to deliver a seamless user workflow from analytics and compound design in D360 to the design tracking and prioritization capabilities in Design Hub. This co-development builds on integrations between D360 and Chemaxon products JChem chemistry cartridge, MarvinSketch and JChem for Office.
"Drug discovery research is laden with manual processes with a myriad of tools that are not connected into one workflow," said Leif Pedersen, president of Certara Software. "We are very pleased to collaborate with Chemaxon to integrate data access, analysis and compound design workflows between D360 and Design Hub, so that we can help clients turn scientific hypotheses into candidate compounds more efficiently."
Certara's D360 software is used by more than 6,500 discovery research scientists, including five of the top 10 biopharmaceutical companies to advance discovery research for small molecule and biological candidates. D360 software delivers self-service access to data and integrated scientific intelligence, resulting in timelier insights for smarter and faster decisions.
"We are excited to deliver best of breed capabilities with Design Hub and D360 that deliver data-driven design and research tracking for small molecules and biologics," said Csaba Peltz, chief product officer at Chemaxon. "Digitalizing drug discovery allows researchers to focus on the science and shorten the time it takes to prioritize and monitor compound designs."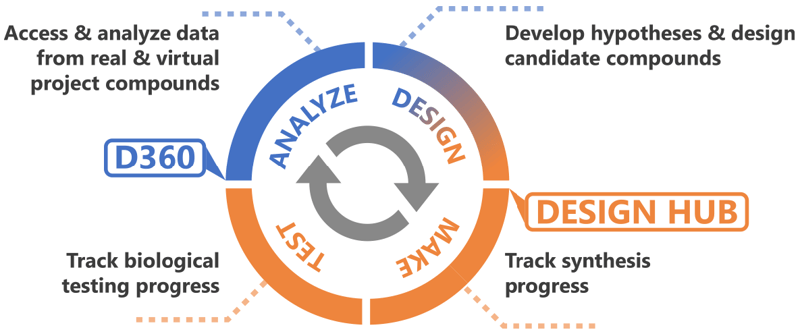 About Certara

Certara accelerates medicines using proprietary biosimulation software, technology and services to transform traditional drug discovery and development. Its clients include more than 2,000 biopharmaceutical companies, academic institutions, and regulatory agencies across 62 countries.